At Ergolab, we believe that the key to wellness at work is comfort, created through balanced movement, which results in a continuously changing posture. Our sit/stand products are designed to make these natural transitions effortless, in an engaged active workspace.
Switching between seated and standing postures throughout the day is not only good for energy and productivity, but for overall health. Both the Float desk and QuickStand ECO, allow users to adopt a healthy and balanced level of activity while they work.
3 Items in Grid
4 Items in Grid
List
The next generation in portable sit/stand solutions. Sleeker, easier to use and comprised of sustainable materials, it's a vast improvement over current sit/stand surfaces. It features a simple setup, portability and near effortless adjustability – transforming ordinary desktops into healthy, active workspaces. (Requires minimum desk size 712mm wide x 725 deep work surface)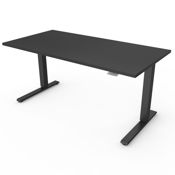 Humanscale's FLOAT is a revolutionary standing office desk that seamlessly adjusts between sitting and standing postures without interrupting workflow. With a minimal aesthetic, Float complements traditional offices and home work spaces. Using a patented counterbalance mechanism that replaces older technology, Float encourages an active workspace by allowing the user to move quickly and effortlessly from sit to stand positions.