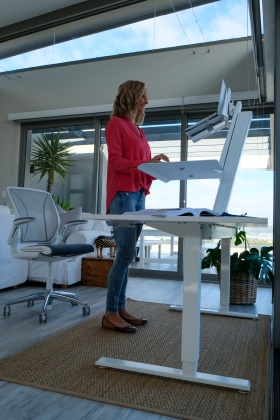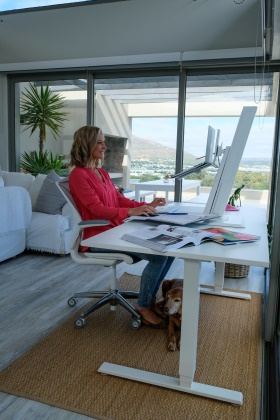 HAVE YOU EXPERIENCED ANY DISCOMFORT RELATED TO YOUR PREVIOUS OFFICE SETUP?
Yes, we had really cheap chairs in our home office, which weren't comfortable and we also had a make shift desk. The previous setup was very basic. I would constantly be shifting and moving around because my lower back always experienced discomfort.
HOW MANY HOURS A DAY WERE YOU SITTING AT YOUR DESK OR IN FRONT OF THE SCREEN AT YOUR PREVIOUS OFFICE SETUP?
Generally, as a couple, our careers are very flexible we are quite busy. Every day is very different. We would be seated between 4-6 hours a day. But generally I would be seated for 4 hours a day and the rest of the day I would be in meetings, seeing clients and running around after Max (beautiful baby boy).
SINCE USING THE HUMANSCALE ERGONOMIC PRODUCTS, HAVE YOU EXPERIENCED ANY DISCOMFORT?
Very, very little discomfort is now felt with the new setup. Sometimes I lose track of time and stand for more than 10 mins at a time and then my back gets sore. It is mainly when I stand for too long, then I feel discomfort but then I know it is my body telling me to sit. Generally speaking, it is just my lower back but this was an injury prior to my new setup
NOW THAT YOU HAVE THE SIT/STAND WORKSTATION - HOW MANY HOURS A DAY WOULD YOU BE SEATED, AND HOW MANY HOURS SPENT STANDING? HAVE YOU NOTICED THAT YOU ARE EXPERIENCING LESS DISCOMFORT SINCE INTRODUCING STANDING INTO YOUR DAY (behind the screen)?
I definitely do a lot more sitting than standing. I start my day off standing and stand for about 10-20 min at a time. Then I will sit for the rest of the day. Therefore standing at the desk for an hour and a sitting for 3 hours. But I love the option of standing and sitting throughout the day. A lot less discomfort since I was introduced to Humanscale products.
DO YOU FEEL THAT THE HUMANSCALE PRODUCTS PROMOTE HEALTH IN THE WORKPLACE - THROUGH IT'S PHILOSOPHY OF COMFORT/SUPPORT/EASE OF USE & SIMPLICITY? WHICH OF THESE ELEMENTS STAND OUT TO YOU IN PARTICULAR?
I definitely feel that the Humanscale products promote health in the workplace as all the products are adjustable. I don't need to move my laptop when I go from a seated posture to a standing posture in a second. It is all so versatile and functional. It promotes good health because you are constantly moving.

Sitting behind your desk the whole day is bad from you, your circulation, and lowers your concentration. All the Humanscale philosophies (comfort, ease of use, support) I agree on especially when focusing on the chair. The chair is very comfortable for me. My lower back is my main problem therefore sitting for me has never been a comfortable but now I hardly have any back pain sitting in my new Humanscale World chair. When focusing on the chair it will totally be comfort and support.
YOU PREVIOUSLY INDICATED THAT YOU ARE PRONE TO BACK PROBLEMS/ISSUES - DO YOU FEEL THAT THE HUMANSCALE WORLD CHAIR HAS MADE APOSITIVE IMPACT ON YOUR DAY TO DAY WORKING ENVIRONMENT?
I have a lower back injury and I have been to the chiropractor many a times. It actually stems from picking up my son, Max. Absolutely, the chair has had a positive impact on my wellbeing. Sitting in the chair, I feel very little discomfort. I could sit for ages. But moving from a seated to standing position is a huge help.